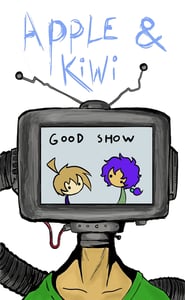 $

30.00
The first book from Apple & Kiwi signed and sketched in by the author. Collects the very first comic up to the end of the Shock Zebra story with a foreword from I Have Stabbed the World in It's Heart! author Matt Bevilacqua. Additionally contains various sketches and unposted comics.
151 pages, black and white
You can purchase the standard edition through Lulu.
Add the sketch details during checkout under "add special instructions to merchant" or email them to andrew@perspicacity1.com with the subject line "Custom sketch